Luke's height and weight ranged from 5'4" to 5'7" and from 125lbs to 145lbs. What remained consistant is how he dressed as a gambler.

He was known to wear a silk top hat, bowler, derby or plug hat. His coat was a Prince Albert. The shirt would have a high collar and ruffles. The vest was very bright and flowered.

Luke would wear a Diamond (known as a headlight) in his tie or on his coat lapel. A Jules Jurgensen watch would hang from a heavy gold chain.

Always the "Dandy" it was rumored that Luke took a bath each and every day at a time when most bathed weekly to monthly.

Frontier Times, September 1929 reported that Luke stood 5'6" and weighed 150lbs., was always handsomely dressed and wore a famous derby hat.

Freelance writer, Bill Kelly in his book, "Gamblers of the Wild West", reported that a portrait use to hang in the Apple Valley Inn, California. A plaque, in part, described Luke as "an immaculate dresser and gentleman". Dapper Luke wore a silk stovepipe hat, a fancy braided shirt with ruffles and a diamond stickpin in his tie.

Silk Top Hat
Bowler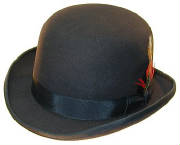 Derby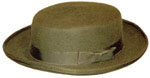 Plug Hat