As the story goes, in the 1870s it all began when a bunch of local men were playing ball on the hot dry Kansas plains. Side wagers began as the cowboys played against soldiers from Fort Dodge. All were drinking during the game and a bigger wager was soon made that if the soldiers lost, they would provide the building materials to construct a saloon. Well the soldiers lost and shortly thereafter all the materials needed to build the saloon arrived.

Owned by Chalk Beeson and W. H. Harris, the Long Branch was the epitome of cowtown fancy. Paintings adorned the walls, revolvers decorated the patrons, and a steer head kept watch over the action on Front Street. It was the favorite for cattlemen and gamblers and witness to some of Dodge City's most infamous events.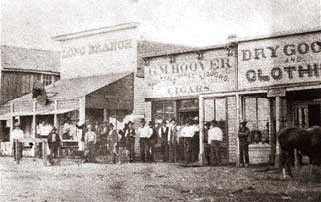 Pictured on the far left, gunplay was no stranger to the Long Branch saloon. When the canvas on the walls was removed in May 1882, twenty-five bullet holes were discovered, mute testimony to the action the patrons had seen over the years.
In February 1883 Luke becomes equal partner of the Long Branch Saloon with Bill Harris. Shortly after, The Dodge City War erupts. By September 1883 Short and Harris sell the Long Branch to Roy Drake and Frank Warren.